Wednesday, November 13, 2013
Hi, I hope you all doing fine. I have finish a halloween ornament for my sister and one page of my cousins picture!!!! Well I let you go and hope you come back and take a look !!!! Have an awesome day your friend Lizzy. I also please leave me a comment it makes me really happy!!!!
Posted by

Lizette Morales
at 9:32 AM
1 comments

Monday, November 4, 2013
Hi, Here I'm to share my November tusal. I did not stitch as much as October !!!! I hope next year I do not leave the blog so many days unattended!!! I have stitch but not as much as I wanted. I just finish the Xmas ornaments till June or July !!!! Well I leave you and please come visit my blog Lizy Till next time.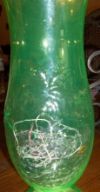 Posted by

Lizette Morales
at 9:00 AM
1 comments