Tuesday, September 25, 2012
Hi, Thank you for visiting my blog. Thank you Mylene for leaving me a comment. It was so nice of you. Well I have stitch some more on the angels. It got some hair, head and part of the body. I hope I'm doing all right!!!! Now I skip to my twins cousins. Remember I said I was doing them black and white. Well actually they are not black and white. They are mostly shades of grays. You know what I mean dark gray, very dark gray and light gray and and some shades of purple and greens!!! Well I cant wait to see when there faces appear!!! Well I leave you till next time and I hope you come visit my blog your friend Lizette.
Posted by

Lizette Morales
at 5:07 PM
2 comments

Monday, September 17, 2012
Hi, First of all thank you all for visiting my blog and leaving comments on my grandparents!!!! I appreciated them!!!! Know I'm starting on two. One is a picture for my twins cousins the picture is going to be black and white. The other one is going to be some little angels those are going to be for cousins baby. I still don't what it will be. Well I leave you with some pictures and I will be back next week!!! Next time your friend Lizette.
Posted by

Lizette Morales
at 7:46 PM
1 comments

Saturday, September 8, 2012
Hi, I would like to share some happy news!!!!! I have finish grandparents picture. It took a year and five months. My grandparents are really going to be surprise. I can't wait till December. Well as now I'm working on another picture and some angels. Well I you come back and visit my blog. Hope you leave me a comment thank you Lizette till next time. I will leave you with a picture of my grandparents!!!!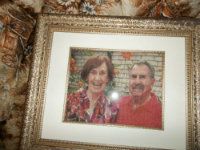 Posted by

Lizette Morales
at 1:27 PM
5 comments